The definition of shock mitigation is; "To make a violent collision or impact – less intense". For boating, it's the impacts with waves. This includes rivers and estuaries with wind against tide conditions, and even lakes can produce significant wave heights from wind blowing over open water.
A shock mitigation strategy is essential for all crafts that undertake open sea transits or operate in rough water.

Sea Knees is a shock mitigation for boats strategy that greatly reduces the impact on the knees and other joints in the body from boat shock caused by waves and chop. A boat shock mitigation strategy is essential for all crafts that undertake open sea, ocean, lakes and river transits or operate in any type of rough or choppy water.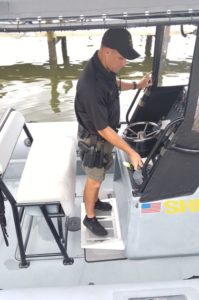 For the Standup Boater there are strategies that may reduce Fatigue, ( i.e. pads ) but not that effectively address "violent and not so violent collisions" encountered with waves.
Sea Knees is now available, (trademarked and patent pending) a Shock Mitigation System for Boats " strategy for the Standup Boater.
Boating Gravity or G Force, is the force that naturally holds us to Earth and averages about 1 G. A persons weight is a measure of the gravitational force acting on it. If a person normally weighs 150 lbs., if they were to experience a G force of 2, ( double what's natural )
their weight load would effectively double to 300 lbs. A 1.5 G force would increase one's weight effectively to 225 lbs.. ( 150 X 1.5 = 225 )
While underway in a boat, a person can encounter multiple G forces that will pull them in different directions. Factors such as wave height, wave direction and boat speed all effect boating G-Forces.
Three of those G-Force directions are:
1. Front to Back
2. Vertical
3. Left to right depending on various
For the standup boater, the knees take most of any additional G forces followed by the
ankles and back.
Boating Fatigue; reducing "G's" will effectively reduce the stress and the associated fatigue.
View Video on Sea Knees Sea Trial – Shock Mitigation for Boats…
Click Here to view SeaKnees News
SeaKnees boat shock mitigation boating equipment reduces Boating G Forces and G Force boating injuries – Sea Knees "Takes the Motion out of the Ocean".