Best riding boats are those boats equipped with Sea Knees. Sea Knees is the first device for Vibration Dampening and Shock Mitigation for the stand-up boater. Those boaters who pilot their boats standing up and passengers who prefer standing to sitting for the best riding boat.
Sea Knees is shock mitigation for boats that greatly reduces the impact on the knees and other joints in the body from boat shock caused by waves and chop slamming against the bottom of the boat hull . Boat shock mitigation is essential to reduce physical fatigue and create a more comfortable and controlled (safer) ride for all crafts that undertake open sea transits or operate in rough or choppy water.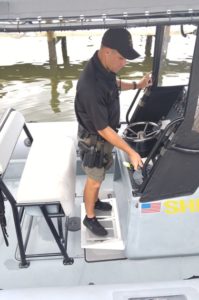 CAUTION – When on Sea Knees, the best riding boats ride is improved so much, that care should be taken, to not overdrive the boat and consideration given for any passengers not on Sea Knees.
Sea Knees is Trade Marked and Patent Pending.
A message from Paul the president/owner:
I'm here to assist and service boats, boaters, standup boaters, boat companies and boating organizations with all their boat shock mitigation needs for a best riding boat.